M88048/M88010 inch taper roller bearing
Capacity:
100000 PCS /Month
Nearest Port:
Ningbo or Shanghai
Payment Terms:
TT L/C D/P D/A Paypal west-union
Price Terms:
FOB CIF CNF DDU
Product Packing & Delivery
Packing Detials:Industrial packing, Single box, or as customer's request
Delivery Detail:Be Allowed By Sea,By Air,By Rallway Or Express.
Product Quick Details
Taper roller bearings are one of the most common bearing type, only less than deep groove ball bearings, it composed by one cup, one cone,one cage and a group of taper rollers. KSC bearing corporation professional supply all kinds of taper roller bearings,high performance & good prices,the first choice of distributor and end user.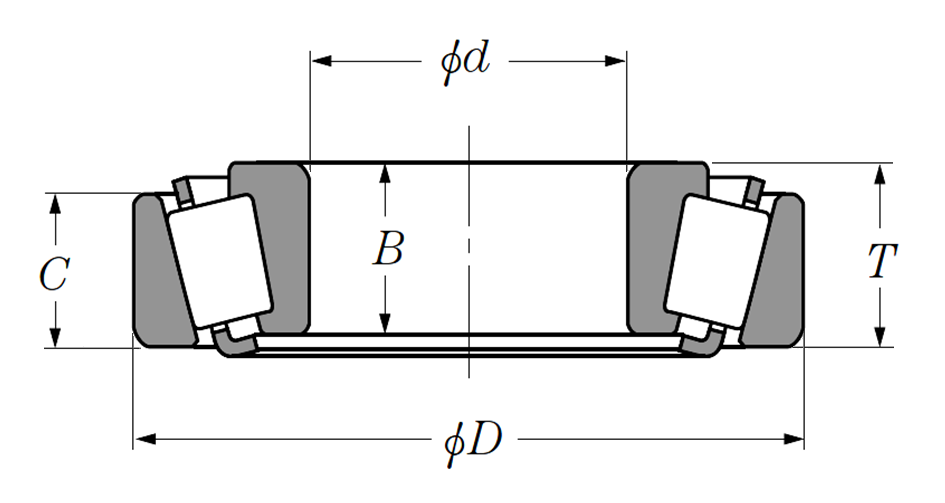 | | |
| --- | --- |
| Bearing Number: | M88048/M88010 |
| Brand: | KSC, Neutral or OEM |
| Size (mm): | 33.338 x 68.262 x 22.225 x 22.225 x 17.462 |
| Material: | GCr15 chrome steel |
| Precision: | P0 P6 P5 |
| Cage: | Steel cage (sand blasting or black finish) |
| Weight (Kg): | 0.373 |
| Country of Origin: | CHINA |
| Certification: | ISO9001 |

Basic Bearing No.
Dimensions (mm)
Load Rating (KN)
Weight
approx.
KG
d
D
T
B
C
R min
r min
Dynamic
C
Static
C0
14118/14274
30
69.012
19.845
19.202
15.875
0.8
3.3
48.1
57.8
0.352
M86649/M86610
30.162
64.292
21.433
21.433
16.67
1.5
1.5
48.1
67
0.332
M86649/M86610-V
30.162
64.292
21.433
21.433
16.67
1.5
1.5
48.1
67
0.332
M88043/M88010
30.162
68.262
22.225
22.225
17.462
2.3
1.5
56.1
71
0.398
M88043G/M88010G
30.162
69.262
22.225
22.225
17.462
2.3
1.5
56.1
71
0.398
M88043Z/M88010Z
30.162
68.262
22.225
22.225
17.462
2.3
1.5
56.1
71
0.398
15118/15245
30.213
62
19.05
20.638
14.288
3.5
1.3
44.7
50.9
0.254
15118/15250
30.213
63.5
20.638
20.638
15.875
3.5
1.3
44.7
50.9
0.286
15118/15250X
30.213
63.5
20.638
20.638
15.875
3.5
1.5
44.7
50.9
0.286
02475/02420
31.75
68.262
22.225
22.225
17.462
3.5
1.5
56.2
65.7
0.37
14123AA/14276
31.75
69.012
26.983
26.721
15.875
4.3
1.3
48.1
57.8
0.385
14125A/14274
31.75
69.012
19.845
19.583
15.875
3.5
3.3
48.1
57.8
0.341
14125A/14276
31.75
69.012
19.845
19.583
15.875
3.5
1.3
48.1
57.8
0.342
14125A/14283
31.75
72.085
22.385
19.583
18.415
3.5
2.3
48.1
57.8
0.38
15123/15243
31.75
61.912
18.161
19.05
14.288
SP
2
44.7
50.9
0.236
15123/15244
31.75
62
19.749
19.05
15.875
SP
1.3
44.7
50.9
0.252
15123/15245
31.75
62
18.161
19.05
14.288
SP
1.3
44.7
50.9
0.238
15123/15250X
31.75
63.5
19.749
19.05
15.875
SP
1.5
44.7
50.9
0.27
15126/15245
31.75
62
19.05
20.638
14.288
0.8
1.3
44.7
50.9
0.247
15126/15250X
31.75
63.5
20.638
20.638
15.875
0.8
1.5
44.7
50.9
0.28
HM88542/HM88510
31.75
73.025
29.37
27.783
23.02
1.3
3.3
74.1
101
0.611
LM67045/LM67010
31.75
59.131
15.875
18.5
11.811
2
1.3
33.9
42.5
0.188
LM67048/LM67010
31.75
59.131
15.875
16.764
11.811
SP
1.3
33.9
42.5
0.177
LM67048/LM67014
31.75
61.986
15.875
16.764
11.811
SP
1.3
33.9
42.5
0.197
LM67048L/LM67010
31.75
59.13
15.875
16.764
11.811
3.5
1.3
33.9
42.5
0.184
LM67048RS/LM67010
31.75
59.131
15.875
16.764
11.811
SP
1.3
33.9
42.5
0.185
LM67048Z/LM67010BA
31.75
58.877
6.833
16.764
11.811
SP
1.3
33.9
42.5
0.176
LM67048Z/LM67010Z
31.75
59.131
15.875
16.764
11.811
SP
1.3
33.9
42.5
0.185
LM67049A/LM67010
31.75
59.131
15.875
16.764
11.811
0.8
1.3
33.9
42.5
0.183
LM67049A/LM67014
31.75
61.986
15.875
16.764
11.811
0.8
1.3
33.9
42.5
0.203
LM67049AX/LM67010X
31.75
59.131
15.875
16.764
11.811
0.3
0.5
37.8
42.7
0.183
M88046/M88010
31.75
68.262
22.225
22.225
17.462
1.5
1.5
56.1
71
0.398
JL26749/JL26710
32
53
14.501
15
11.5
SP
1.3
30.6
39.5
0.122
14130/14274
33.338
69.012
19.845
19.583
15.875
3.5
3.3
48.1
57.8
0.326
14130/14276
33.338
69.012
19.845
19.583
15.875
3.5
1.3
48.1
57.8
0.326
14131/14274
33.338
69.012
19.845
19.583
15.875
0.8
3.3
48.1
57.8
0.327
14131/14276
33.338
69.012
19.845
19.583
15.875
0.8
1.3
48.1
57.8
0.328
2790/2720
33.338
76.2
23.812
25.654
19.05
1.5
3.3
75.5
94
0.547
HM88547/HM88510
33.338
73.025
29.37
27.783
23.02
0.8
3.3
74.1
101
0.59
HM89443/HM89410
33.338
76.2
29.37
28.575
23.02
0.8
3.3
79.6
107
0.653
M88048/M88010
33.338
68.262
22.225
22.225
17.462
0.8
1.5
56.1
71
0.373
M88048/M88010-VA
33.338
68.262
22.225
22.225
17.462
0.8
1.5
56.1
71
0.373
14136A/14276
34.925
69.012
26.983
26.721
15.875
0.8
1.3
48.1
57.8
0.349
14137A/14274
34.925
69.012
19.845
19.583
15.875
1.5
3.3
48.1
57.8
0.317
14137A/14276
34.925
69.012
19.845
19.583
15.875
1.5
1.3
48.1
57.8
0.318
14137AS/14276
34.925
69.012
19.845
19.583
15.875
0.5
1.3
46.2
55
0.318
14138A/14274
34.925
69.012
19.845
19.583
15.875
3.5
3.3
48.1
57.8
0.314
14138A/14276
34.925
69.012
19.845
19.583
15.875
3.5
1.3
48.1
57.8
0.315
14138A/14283
34.925
72.085
22.385
19.583
18.415
3.5
2.3
48.1
57.8
0.356
14585/14525
34.925
68.262
20.638
20.638
15.875
3.5
2.3
51.1
61
0.331
25877/25821
34.925
73.025
23.812
24.608
19.05
1.5
0.8
72.5
87.9
0.467
28137/28317
34.925
80.035
21.433
20.94
15.875
1.5
1.5
57.3
65.9
0.496
HM88649/HM88610
34.925
72.233
25.4
25.4
19.842
2.3
2.3
66.9
87.3
0.483
HM89446/HM89410
34.925
76.2
29.37
28.575
23.02
3.5
3.3
79.6
107
0.642
LM48548/LM48510
34.925
65.088
18.034
18.288
13.97
SP
1.3
45.7
58
0.25
LM48548/LM48514XP
34.925
68.262
18.034
18.288
13.97
SP
1.2
45.7
58
0.25
15036/JL68111Z
35
60
15.875
18.46
11.938
2
1.3
31.5
47.5
0.185
328227CA/Q
35
60
13
18.5
13
2
1
26.7
30.2
0.164
328227FCA/Q
35
60
13
18.5
13
2
1
26.7
30.2
0.155
35KC802
35
80
29.15
28.5
22
2
2
91.2
109
0.711
JL68145/JL68111Z
35
60
15.875
18.46
11.938
2
1.3
31.5
47.5
0.185
L68149/L68110
35
59.131
15.875
16.764
11.938
SP
1.3
33.3
44.4
0.167
L68149/L68111
35
60
15.875
16.764
11.938
SP
1.3
33.3
44.4
0.175
L68149/L68116
35
65.088
15.875
16.764
11.938
SP
1.5
33.3
44.4
0.222
L68149R/L68110
35
59.131
15.875
16.764
11.938
1
1.3
33.3
44.4
0.168
LM78349/LM78310A
35
62
16.7
17
13.6
SP
1.5
40.9
52.8
0.203
HM88648/HM88610
35.717
72.233
25.4
25.4
19.842
3.5
2.3
66.9
87.3
0.473
HM89249/HM89210
36.512
79.375
29.37
28.829
22.664
3.5
3.3
89
108.6
0.685
HM89448/HM89410
36.512
76.2
29.37
28.575
23.02
0.8
3.3
79.2
106
0.623
HM89449/HM89410
36.512
76.2
29.37
28.575
23.02
3.5
3.3
79.2
106
0.623
JL69345/JL69310Z
38
63
17
19
13.5
SP
1.3
38.6
52.4
0.205
JL69348Z/JL69310Z
38
63
17
17
13.5
3.3
1.3
38.6
52.4
0.199
JL69349/JL69310Z
38
63
17
17
13.5
SP
1.3
38.6
52.4
0.199
JL69349A/Q-JL69310/Q
38
63
17
17
13.5
1.3
1.3
37
53.8
0.206
JL69349Y/JL69310Y
38
63
17
17
13.5
SP
1.3
38.6
52.4
0.199
15055/LM29710
38.1
65.088
18.034
21.288
13.97
3.7
1.3
43.3
56.8
0.245
16150/16284
38.1
72.238
20.638
20.638
15.875
3.5
1.3
49.8
61.3
0.345
19150/19268
38.1
68.262
15.875
16.52
11.908
1.5
1.5
47.1
55.5
0.235
25572/25520
38.1
82.931
23.812
25.4
19.05
0.8
0.8
78
100
0.639
2788A/2729
38.1
76.2
23.812
25.654
19.05
1.5
0.8
75.5
94
0.5
3490/3420
38.1
79.375
29.37
29.771
23.812
3.5
3.3
87.6
105.6
0.645
57207/LM29710
38.1
65.088
18.034
18.288
13.97
XLJ
1.3
43.3
56.8
0.226
57410S/LM29710S
38.1
65.088
18.034
21.139
13.97
SP
1.3
43.3
56.8
0.231
LM29748/LM29710
38.1
65.088
18.034
18.288
13.97
SP
1.3
43.3
56.8
0.226
LM29749/LM29710
38.1
65.088
18.034
18.288
13.97
2.3
1.3
43.3
56.8
0.231
LM29749/LM29711
38.1
65.088
19.812
18.288
15.748
2.3
1.3
43.3
56.8
0.245
038KC68
38.5
68
18.25
16.5
15
2
1.5
44.1
55.6
0.257
J16154/J16285
39
72.014
21.4
20.638
16.637
3.5
0.4
49.8
61.3
0.352
M201047/M201011
39.688
73.025
25.654
22.098
21.336
0.8
2.3
63
81
0.422
568331 (=BT1B 328358 SKF)
31.75
76.2
25.4
25.4
HM813839/HM813810
36.512
127
36.512
36.512
26.988
3.5
3.3
2.2
Related Products