30/8-2Z 30/8 ZZ Double row angular contact ball bearings
Capacity:
50000 PCS /Month
Nearest Port:
Ningbo or Shanghai
Payment Terms:
TT L/C D/P D/A Paypal west-union
Price Terms:
FOB CIF CNF DDU
Product Packing & Delivery
Packing Detials:Industrial packing, Single box, or as customer's request
Delivery Detail:Be Allowed By Sea,By Air,By Rallway Or Express.
Product Quick Details
Double row angular contact bearings are composed of two groups of balls , two cages ,one outer ring and one inner ring with two groove .this kinds of bearings own high rigidity and high high axial locating accuracy. KSC bearing corporation professional supply all kinds of double row angular contact bearings,high performance & good prices,the first choice of distributor and end user. Welcome to buy KSC 30/8-2Z 30/8 ZZ Double row angular contact ball bearings. Please visit our web of other page for more items.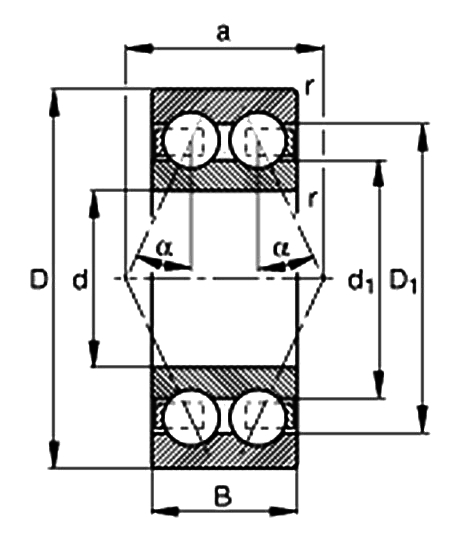 | | |
| --- | --- |
| Bearing Number: | 30/8-2Z |
| Interchanged No.: | 30/8 ZZ |
| Brand: | KSC, Neutral or OEM |
| Size (mm): | 8 x 22 x 11 |
| Material: | GCr15 chrome steel |
| Precision: | P0 P6 P5 |
| Clearence: | C2 C0 C3 C4 |
| Cage: | Reinforced polyamide cage |
| Weight (Kg): | 0.02 |
| Country of Origin: | CHINA |
| Certification: | ISO9001 |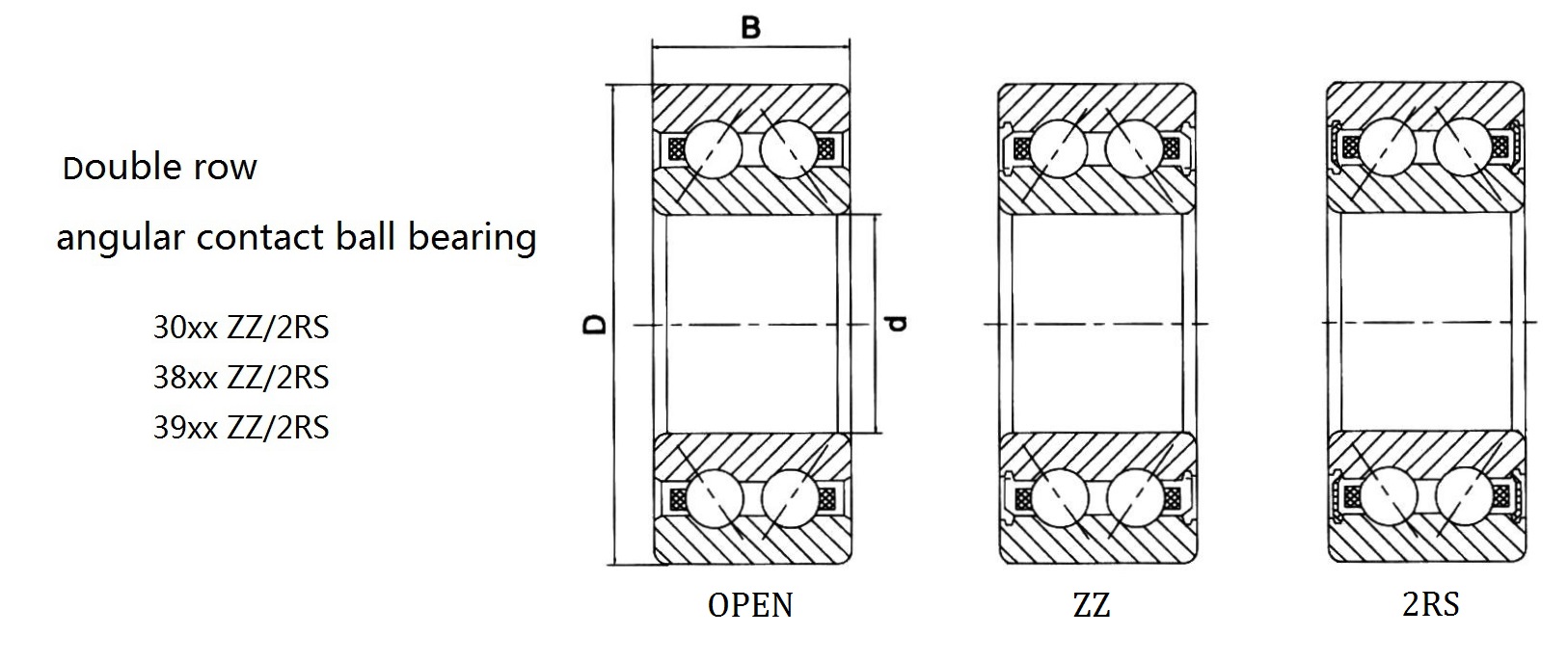 Bearing number
Basic dimension (mm)
Load (kN)
ltd. speed(rmp)
weight
d
D
B
Cr
Cor
脂
油
kg
30/5-2Z
30/5-2RS
5
14
7
1.8
0.95
0.008
30/6-2Z
30/6-2RS
6
17
9
3.1
1.4
0.01
30/7-2Z
30/7-2RS
7
19
10
3.65
1.7
0.012
30/8-2Z
30/8-2RS
8
22
11
5.2
2.6
0.02
3000
3000-2Z
3000-2RS
10
26
12
5.5
3.2
18000
23000
0.022
3001
3001-2Z
3001-2RS
12
28
12
6.1
3.7
17000
22000
0.025
3002
3002-2Z
3002-2RS
15
32
13
8.5
5.4
14500
18000
0.036
3003
3003-2Z
3003-2RS
17
35
14
9
6
12500
16000
0.042
3004
3004-2Z
3004-2RS
20
42
16
14.2
9.6
11000
13000
0.08
3005
3005-2Z
3005-2RS
25
47
16
15.2
11
9500
12000
0.1
3006
3006-2Z
3006-2RS
30
55
19
20.3
15.5
8000
10000
0.16
3007
3007-2Z
3007-2RS
35
62
20
24.2
20.4
6500
8500
0.2
3008
3008-2Z
3008-2RS
40
68
21
24.5
20.8
6000
7800
0.25
3009
3009-2Z
3009-2RS
45
75
23
39.3
36.4
5600
6200
0.3
3010
3010-2Z
3010-2RS
50
80
23
42.3
41.9
5300
6600
0.32
3011
3011-2Z
3011-2RS
55
90
26
43.7
44.7
4800
5800
0.47
3012
3012-2Z
3012-2RS
60
95
26
47.2
53.4
4400
5000
0.5
3013
3013-2Z
3013-2RS
65
100
26
49.5
59.2
4000
4800
0.53
3014
3014-2Z
3014-2RS
70
110
30
54.2
58.9
3600
4400
0.74
3015
3015-2Z
3015-2RS
75
115
30
57.7
66.5
3400
4000
1.2
3016
3016-2Z
3016-2RS
80
125
34
63.5
67.8
3100
3800
1.3
3017
3017-2Z
3017-2RS
85
130
34
68.3
77.5
2900
3600
1.4
3018
3018-2Z
3018-2RS
90
140
37
69.8
77.3
2700
3300
1.5
3019
3019-2Z
3019-2RS
95
145
37
72.4
82.9
2600
3100
3020
3020-2Z
3020-2RS
100
150
37
74.7
88.2
2500
2800
Related Products