NN 3032 KMP41 NN 3032 KMP51 High precision machine tool mainshaft bearings
Nearest Port:
Ningbo or Shanghai
Payment Terms:
TT L/C D/P D/A Paypal west-union
Price Terms:
FOB CIF CNF DDU
Product Packing & Delivery
Packing Detials:Single box+carton, or as customer's request
Delivery Detail:Be Allowed By Sea,By Air,By Rallway Or Express.
Product Quick Details
KSC bearing corporation professional supply P6 P5 P4 type NN NNU bearings,high precision double roe cylindrical roller bearings, mainly apply to after market for repair machnical tool spindle bearing and heavy machinery bearing. Welcome to order KSC corporation NN 3032 KMP41 NN 3032 KMP51 High precision machine tool mainshaft bearings , high performance and low price,the best balance between quality and price, the first choice of bearing trader and end user.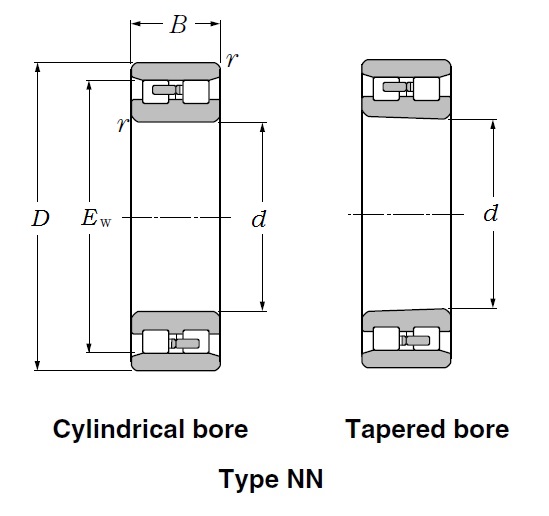 | | |
| --- | --- |
| Bearing Number: | NN 3032 KMP41 |
| Interchanged No.: | NN 3032 KMP51 |
| Brand: | KSC, Neutral or OEM |
| Size (mm): | 160 x 240 x 60 |
| Material: | GCr15 bearing steel |
| Precision: | P6 P5 P4 |
| Clearence: | C2 C0 C3 C4 C5 |
| Cage: | brass or steel cage |
| Weight (Kg): | 9.41 |
| Country of Origin: | CHINA |
| Certification: | ISO9001 |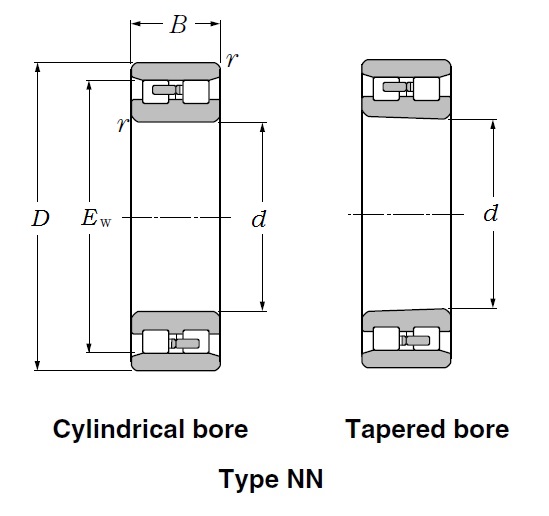 Bearing number
Boundary Dimensions (mm)
Basic Load Ratings(N)
Limiting Speeds(rpm)
weight
d
D
B
r
Ca
Coa
Grease
Oil
approx. kg
NN 3021
NN 3021 MP41
NN 3021 MP51
105
160
41
2
198 000
320 000
3 800
4 500
2.88
NN 3021 K
NN 3021 KMP41
NN 3021 KMP51
105
160
41
2
198 000
320 000
3 800
4 500
2.88
NN 3022
NN 3022 MP41
NN 3022 MP51
110
170
45
2
229 000
375 000
3 400
4 300
3.71
NN 3022 K
NN 3022 KMP41
NN 3022 KMP51
110
170
45
2
229 000
375 000
3 400
4 300
3.71
NN 3024
NN 3024 MP41
NN 3024 MP51
120
180
46
2
239 000
405 000
3 200
3 800
4.04
NN 3024 K
NN 3024 KMP41
NN 3024 KMP51
120
180
46
2
239 000
405 000
3 200
3 800
4.04
NN 3026
NN 3026 MP41
NN 3026 MP51
130
200
52
2
284 000
475 000
3 000
3 600
5.88
NN 3026 K
NN 3026 KMP41
NN 3026 KMP51
130
200
52
2
284 000
475 000
3 000
3 600
5.88
NN 3028
NN 3028 MP41
NN 3028 MP51
140
210
53
2
298 000
515 000
2 800
3 400
6.34
NN 3028 K
NN 3028 KMP41
NN 3028 KMP51
140
210
53
2
298 000
515 000
2 800
3 400
6.34
NN 3030
NN 3030 MP41
NN 3030 MP51
150
225
56
2.1
335 000
585 000
2 600
3 000
7.77
NN 3030 K
NN 3030 KMP41
NN 3030 KMP51
150
225
56
2.1
335 000
585 000
2 600
3 000
7.77
NN 3032
NN 3032 MP41
NN 3032 MP51
160
240
60
2.1
375 000
660 000
2 400
2 800
9.41
NN 3032 K
NN 3032 KMP41
NN 3032 KMP51
160
240
60
2.1
375 000
660 000
2 400
2 800
9.41
NN 3034
NN 3034 MP41
NN 3034 MP51
170
260
67
2.1
450 000
805 000
2 200
2 600
12.8
NN 3034 K
NN 3034 KMP41
NN 3034 KMP51
170
260
67
2.1
450 000
805 000
2 200
2 600
12.8
NN 3036
NN 3036 MP41
NN 3036 MP51
180
280
74
2.1
565 000
995 000
2 000
2 400
16.8
NN 3036 K
NN 3036 KMP41
NN 3036 KMP51
180
280
74
2.1
565 000
995 000
2 000
2 400
16.8
NN 3038
NN 3038 SPW33
190
290
75
2.1
595 000
1 080 000
2 000
2 400
17.8
NN 3038 K
NN 3038 KSPW33
190
290
75
2.1
595 000
1 080 000
2 000
2 400
17.8
Related Products